I saw this in my Pattern-A-Day calendar this week, while I was still stewing over the
Stupid Hat
. It's like it was a sign or something! So, I just have to make one of each :-)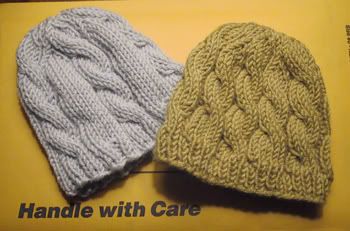 This is in newborn or preemie size. Perfect for my "Itty Bitty Knits" knitalong on
Ravelry
! I spoiled myself (just because they were having a sale. I swear.) at one of my favorite LYS's,
Yarn Paradise
. I bought two balls of Debbie Bliss Cashmerino Aran: one in Dusty Pink and the other in Light Blue. Check out the poll and answer this: How many cables should the pink hat have in this pattern: 5 or 10? The other one will be blue, as I plan on making one of each...
Ahhh, sweet redemption. So far. This yarn is so yummy, and it just
glides
over my
Knitpicks Harmony circular needle
. I may actually enjoy my first ever cables project.
Yes, you read that correctly: my first cables project. Wish me luck...
Just a side note: I have no idea why I'm so link-happy today...